2020 CPSA Cancellation – UPDATE from CPSA President Barbara Arneil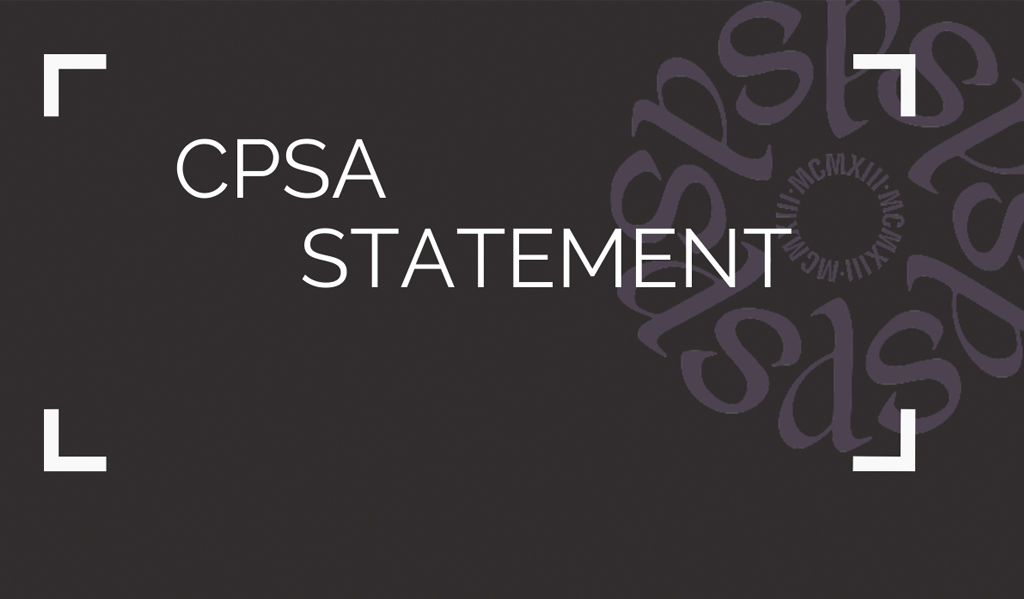 (La version française suit immédiatement le texte anglais.)
Dear Members of the CPSA,
On Friday March 27th, the CPSA Board of Directors announced we would be cancelling the CPSA conference and would not participate in the online Congress proposed by the Federation of Humanities and Social Sciences. We also said we would be in touch shortly to let members know the details of how we would proceed with the Association's spring business meetings and events, including the Annual General Meeting, the Presidential Address, the CPSA prize announcements and other committee meetings as well as financial issues resulting from the cancellation.
As president, I wanted to let you know that we will proceed with the election of new members to the Board through online voting, hold an AGM as required under the constitution, announce this year's CPSA prize winners at our AGM (rather than simply posting winners' names online) and hold regular business meetings. On a personal note, I have chosen to cancel the Presidential Address, even in a virtual format, as it did not seem appropriate with every other panel and speaker cancelled (all the result of enormous work put into the programme by our 2020 Programme Committee) to make an exception for myself. 
The basic underlying principle guiding our decisions as an association in the midst of this crisis is to do what is necessary to keep us moving forward but also take a moment to collectively recognize and celebrate those members who have done exceptional work in teaching or research in the last year. Please click on CPSA 2020 Annual Conference Cancellation Fact Sheet for details on CPSA virtual meetings along with answers to various questions you might have about the 2020 conference and its cancellation including financial issues.
I conclude with one basic appeal as President of the CPSA. In light of the fact that the cancellation of our annual conference has a major financial impact on the CPSA, I strongly encourage those of you in a financial position to do so, to please renew your CPSA membership and support our staff and work year-round on your behalf. Amongst the collective services and benefits we provide the political science community of Canada are the flagship journal in Canadian politics, the annual academic conference, two legislative internship programs for students (Parliamentary and Ontario internship programs with partners/sponsors), annual meeting/survey of Department Chairs, online resources including curricular material on Indigenous issues from the CPSA Reconciliation Committee, representation of political science in Canada to the Federation of Humanities and Social Sciences and SSHRC which has included, in the past year, a definitive report on Open Access and its impact on journals and associations and working on the Congress Code of Conduct. CPSA will continue to do this work on your behalf but needs your support to ensure our financial sustainability.
Thank you for your patience and I hope you can join us for our virtual AGM on June 10, at 2 pm (EDT).  
Yours, 
Barbara Arneil
President
CPSA
Chers membres de l'ACSP, 
Le vendredi 27 mars, le conseil d'administration de l'ACSP a annoncé que nous annulions le congrès de l'ACSP et que nous n'allions pas participer au Congrès en ligne proposé par la Fédération des sciences humaines. Nous vous avions également indiqué que nous communiquerions sous peu avec vous afin de vous préciser la façon dont nous allions procéder pour les séances de travail et événements du printemps, y compris l'assemblée générale annuelle, l'allocution présidentielle, l'annonce des lauréats des prix de l'ACSP et les autres réunions des comités, et pour les questions financières résultant de l'annulation.
À titre de présidente, je tiens à vous aviser que nous procéderons à l'élection des nouveaux membres du conseil d'administration par un scrutin en ligne, que nous aurons une AGA comme l'exige la constitution, que nous annoncerons les lauréats des prix de l'ACSP de cette année lors de notre AGA (plutôt que de simplement afficher les noms des lauréats en ligne) et que nous tiendrons des séances de travail à intervalles réguliers. Sur une note personnelle, j'ai décidé d'annuler l'allocution présidentielle, même en format virtuel, car il ne m'a pas semblé approprié de faire une exception pour moi-même quand les autres panels et communications des conférenciers (tous étant le fruit de l'énorme travail consacré au programme par notre comité du programme 2020) sont annulés. 
Le principe fondamental qui guide nos décisions en tant qu'association durant cette crise est de faire ce qu'il faut pour continuer à avancer tout en reconnaissant et en célébrant collectivement le travail exceptionnel des membres dans les domaines de l'enseignement ou de la recherche au cours de l'année écoulée. Veuillez cliquer sur Fiche d'information au sujet de l'annulation du congrès de 2020 de l'ACSP pour les détails des réunions virtuelles de l'ACSP ainsi que les réponses aux diverses questions que vous pourriez avoir sur le congrès et son annulation, y compris celles qui ont trait aux aspects financiers.
Je conclus en vous lançant un appel pressant à titre de présidente de l'ACSP. Étant donné l'impact financier majeur de l'annulation de notre congrès annuel sur l'ACSP, j'encourage vivement ceux et celles d'entre vous qui en ont les moyens à renouveler votre  adhésion et à soutenir ainsi notre personnel et le travail qu'il fait en votre nom tout au long de l'année. Parmi les services et avantages collectifs que nous offrons aux politologues canadiens figurent notre revue de prestige, le congrès annuel, deux programmes de stages pour les étudiants (l'un à la Chambre des communes et l'autre à l'Assemblée législative de l'Ontario, de concert avec des partenaires/commanditaires), la réunion annuelle des directeurs et directrices de département et un sondage annuel mené auprès d'eux, des ressources en ligne incluant du matériel pédagogique sur les questions autochtones en provenance du Comité sur la réconciliation de l'ACSP ainsi que la représentation de la science politique au Canada auprès de la Fédération des sciences sociales et du CRSH, ce qui a inclus au cours de la dernière année un rapport définitif sur le libre accès et son impact sur les revues et les associations et les discussions sur le Code de conduit du congrès. L'ACSP poursuit son travail en votre nom, mais elle a besoin de votre soutien pour assurer sa viabilité financière.
Merci de nouveau pour votre patience et j'espère que vous pourrez vous joindre à nous pour notre assemblée générale virtuelle le 10 juin à 14 heures (HAE).  
Cordiales salutations. 
Barbara Arneil
Présidente
ACSP