PRIZE FOR THE BEST CJPS ARTICLE IN GENDER & POLITICS
Rules 2026
The prize is awarded to the author of the best article, in English or French, in Gender & Politics published in the preceding three years of the

Canadian Journal of Political Science (CJPS)

. All relevant articles from the preceding three volumes of the CJPS will be considered.

The first prize will be awarded in 2026 considering volumes 56 (2023), 57 (2024), and 58 (2025) of the CJPS.

Articles that receive the McMenemy Prize are also eligible to receive this prize.

The winner will be announced at the 2026 CPSA Conference.
Canadian Political Science Association (CPSA Prizes Team) 
2024 Prize Jury TBD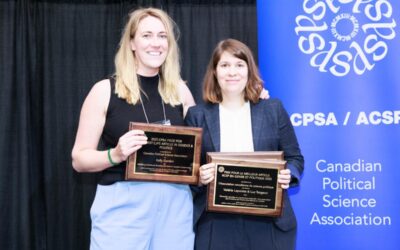 In this article, Gordon examines the political discourse of the Conservative Party of Canada. The analysis reveals . . .
The analyses of Quebec journalistic discourse between 1990 and 2017 conducted by the authors of this article . . .